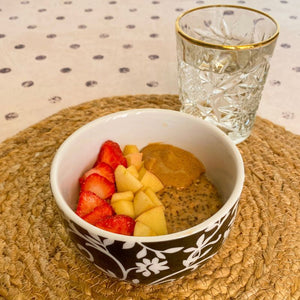 Protein oatmeal with fresh fruit
A delicious, healthy & warm breakfast for the morning! Contains, among other things, chia seeds and fresh fruit. For a real power start to your day. Click here to watch the TikTok video.
Ingredients
40 grams of oatmeal
175 ml almond milk
1 tbsp chia seeds
Fresh strawberries
1/2 apple
1 tbsp 100% natural peanut butter
To work
1. Put the basic ingredients in a bowl and stir together.
2. Put the mixed basic ingredients in a saucepan and heat the mixture over low heat until the right texture is created.
3. Put the warm oatmeal in a bowl and add the topping ingredients on top.