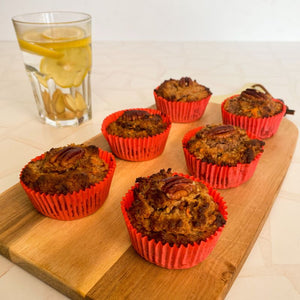 Pecan carrot protein muffins
Delicious protein muffins with pecan and carrot. The ideal healthy snack for in between! Click here to watch the TikTok instructional video .
Ingredients
100 grams pecan nuts + 6 extra keep aside
1/2 tsp baking powder
30 ml (melted) coconut oil
70 grams of grated carrot
To work
1. Preheat the oven to 180°C.
2. Put the 100 grams of pecan nuts in a mixer and grind fine. Then add the almond flour, baking powder, Vegan protein powder and cinnamon and stir together.
3. Grab another bowl and add the (melted) coconut oil, honey and eggs. Mix well and then add the bowl of dry ingredients to the bowl of wet ingredients. Stir well and then add the grated carrot and raisins. Stir this through the batter as well.
4. Grab a greased muffin tin and fill 6 molds with the batter. Grab the extra 6 pecans and place a pecan on top of each muffin.
5. Put the muffin tin in the oven for 20-25 minutes.
6. Then remove the muffins from the oven and let them cool well on a rack.
7. Enjoy the delicious muffins with a nice cup of tea or coffee!
8. Hint! Freeze the muffins so you can keep them longer and warm them up when you feel like the muffin!