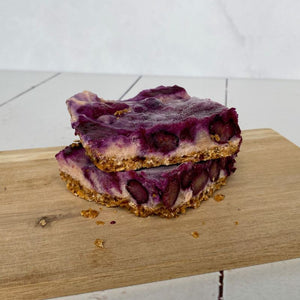 Frozen Yogurt Protein Bars
Delicious bars that you can easily grab from the freezer and eat for breakfast! Also perfect as a protein-rich snack. Click here to watch the TikTok instructional video .
Ingredients
Base:
95 grams of Medjool dates
80 grams of oatmeal
120 ml 100% natural peanut butter
14 grams of linseed
Topping:
200 ml unsweetened Alpro yoghurt
Half a box of frozen blueberries/raspberries
To work
1. Put all the basic ingredients in a blender until the dates are in smaller pieces and everything is well mixed.
2. Put the mixture in a bowl and press it as flat as possible on the bottom. Use a spoon or your hands to do this.
3. Heat the box of frozen blueberries/raspberries in a saucepan until soft and allow to cool.
4. In another bowl, mix the yogurt and protein powder well. Put this mixture on top of the base in the dish.
5. Finally, put the blueberries / raspberries on top and divide over the bowl with a spoon.
6. Put the bowl in the freezer for 2 hours (or longer if necessary) and then cut into 8 pieces. You can then leave the pieces in the freezer for up to 3 weeks and if you want to eat a bar, simply take the bar out of the freezer and let the bar cool for 5 minutes.