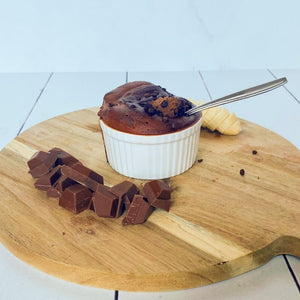 Double Chocolate Mug Cake
Must try delicious Double Choco Mug Cake! Fluffy texture & easy to make. Click here to watch the TikTok instructional video .
Ingredients
2.5 tbsp buckwheat flour
1/2 banana
1 tsp raw cacao powder
1 egg
40 ml almond milk
1 tbsp maple syrup
Pinch of salt
1 tbsp chocolate drops
To work
1. Place all ingredients in a blender, except the chocolate drops, and blend until smooth.
2. Grab a container / mug that can go in the oven and put the mixture in it.
3. Then add the chocolate drops on top of the mixture.
4. Bake in the oven at 180 °C for 10-15 minutes. Check whether the Mug Cake is ready by pricking the Mug Cake with a skewer.
5. Remove the Mug Cake from the oven and enjoy while the Mug Cake is still warm.