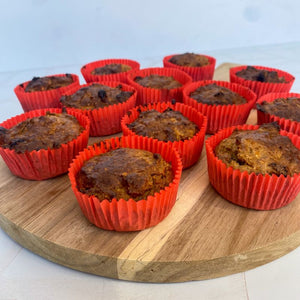 Carrot Cake Muffins
The smell of cinnamon and gingerbread spices from your kitchen! Make these delicious Carrot Cake Muffins as a snack to enjoy. Click here to watch the TikTok video.
Ingredients
1 large grated carrot
3 eggs
2 bananas
120 grams of oatmeal
2 tsp cookie spice
1 tsp cinnamon
1 tsp baking powder
1 tbsp honey
1 tsp vanilla extract
1 handful of raisins
Pinch of salt
To work
1. Preheat the oven to 180 °C and grate the carrot.
2. Put all ingredients (except grated carrot and raisins) in a blender and blend until smooth.
3. Put the batter in a bowl and add the grated carrot and raisins.
4. Get a muffin oven tray and put muffin tins in it (silicone muffin tins are best, as the paper won't stick to the muffin when you eat the muffin).
5. Divide the batter with a gravy spoon over the muffin tins, until all muffin tins are filled.
6. Put the muffin oven tray in the oven for 30 minutes, until the muffins are golden brown and cooked through.
7. Remove the muffin oven plate from the oven and let the muffins cool.
8. Enjoy your delicious muffins with a big cup of tea!
9. TIP! Keep the Carrot Cake Muffins longer by putting them one by one in sandwich bags and putting them in the freezer.