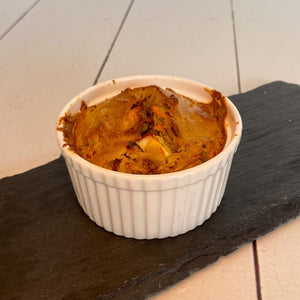 Carrot Cake in a Mug
A delicious hot breakfast that is ready in an instant and is also packed with healthy ingredients. Enjoy the scent of Carrot Cake in the morning! Click here to watch the TikTok instructional video .
Ingredients
1 grated carrot
1 egg
2 tbsp maple syrup
3 tbsp buckwheat flour
1 tbsp chopped pecans
1/2 apple finely diced
1 tsp cinnamon
To work
1. Place all ingredients in a bowl and mix well.
2. Grab a container / mug that can go in the oven and put the mixture in it.
3. Bake in the oven at 180 °C for 10-15 minutes. Check whether the Mug Cake is ready by checking whether the top gets a crispy/brown edge.
5. Remove the Mug Cake from the oven and enjoy while the Mug Cake is still warm.