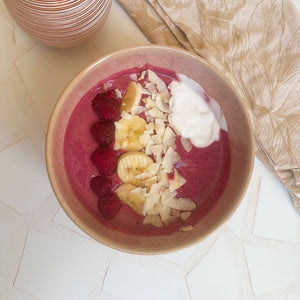 Berry Beet Smoothie Bowl
Enjoy this creamy Berry-Beet Smoothie Bowl in the morning for breakfast or any time of the day! Packed with superfoods to boost your day. Click here to watch the TikTok video.
Ingredients
1/2 frozen banana
125 grams of frozen raspberries
1/2 small beet
2 tbsp coconut yogurt
150 ml almond milk
To work
1. Put all basic ingredients in a blender and blend until smooth.
2. Put the smoothie bowl base in a bowl and add your favorite toppings, such as fresh raspberries, banana pieces, coconut flakes and another tablespoon of coconut yogurt!