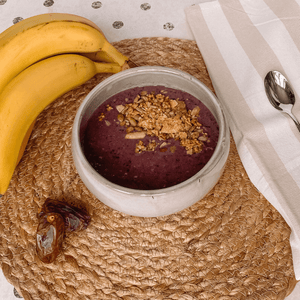 Berry smoothie bowl
A delicious Vegan & 100% natural fruity smoothie bowl with a granola crunch! Click
here
to watch the
TikTok instructional video
.
Ingredients
125 grams raspberry/blueberry mix
150 ml almond milk unsweetened
1/2 (frozen) banana
1 date
2 tbsp granola
1 handful of fresh strawberries
To work
1. Put the raspberry/blueberry mix, almond milk, banana, protein powder and date in a blender.
2. Turn on the blender and make sure everything is well mixed. It should become a smooth whole.
3. Put the mix in a bowl and top with the granola and fresh strawberries.