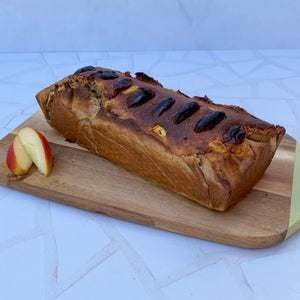 Banana bread with apple
Healthy, delicious and the ideal snack for in between! Less time in the morning? Then take 2 slices to go. Click here to watch the TikTok instruction video .
Ingredients
3 eggs
3 bananas
4 medjool dates
130 grams oatmeal
1 tsp baking powder
50 grams of raisins
1 tsp cinnamon
2 medium apples
2 tbsp coconut milk (or another vegetable milk)
To work
1. Preheat the oven to 180°C and take a cake tin.
2. Put the oatmeal in a blender, so that oat flour is created.
3. Then add all ingredients except the dates, apples and raisins to the blender with oat flour in it and mix into a batter.
4. Put the mixture in a bowl.
5. Cut the 2 apples into cubes of about 1 cm x 1 cm and add to the batter.
6. Weigh 50 grams of raisins and add to the batter.
7. Stir the apples and raisins well through the batter.
8. Grab a baking paper and put it in the cake shape. Then put the batter in the cake tin.
9. Take the 4 dates and cut the dates in half lengthwise. Place the date pieces on top of the banana bread
10. Put the banana bread in the oven at 180°C for 30 minutes until the bread is done and golden brown.
11. Remove the banana bread from the oven and let it cool. Then cut into slices and enjoy the still warm banana bread! It is wonderful to add some 100% natural peanut butter to the slice of banana bread.
12. Keep the banana bread for a long time by cutting the banana bread into 10 pieces, putting each piece in a sandwich bag and putting the pieces in the freezer.