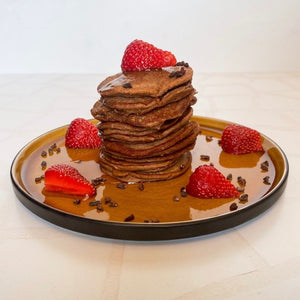 Banana Spelled Pancakes
Fluffy pancakes with a crispy edge! It is also super healthy and delicious. Click here to watch the TikTok instructional video .
Ingredients
Seizure:
1 banana
100 grams spelled flour
1.5 tsp baking powder
150 ml almond milk
1 egg
1 tbsp raw cacao powder
coconut oil (for frying)
Topping:
1 tbsp cocoa nibs
Splash of maple syrup
Fresh strawberries
To work
1. Put all batter ingredients in a blender (except coconut oil) and mix until smooth.
2. Put the mixture in a bowl and get a frying pan. To make the pancakes, use a gravy ladle and turn the heat up to medium.
3. Put a teaspoon of coconut oil in the pan each time and about 3 small pancakes can be baked in the frying pan at a time. A total of 17 small pancakes are made.
4. Grab 3-6 pancakes per person (depending on how much of a eater you are in the morning) and stack the pancakes on a plate. Pour a dash of maple syrup over this and add the cocoa nibs and fresh strawberries on top.
5. Leftover pancakes? Put the pancakes in a container and save for the next day!