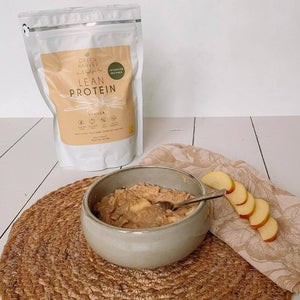 Apple Pie Protein Oatmeal
Delicious warm bowl of apple pie oatmeal. Perfect for the cold winter days and super healthy! Click here to watch the TikTok instructional video .
Ingredients
50 grams of oatmeal
200 ml almond milk
1 apple
1 teaspoon cinnamon
1 tablespoon of raisins
To work
1. Place all ingredients in a bowl and stir well.
2. Grab a saucepan and put the mixture in it.
3. Heat the oatmeal over low heat until the oatmeal has a mushy texture.
4. Put the oatmeal in a bowl and enjoy!