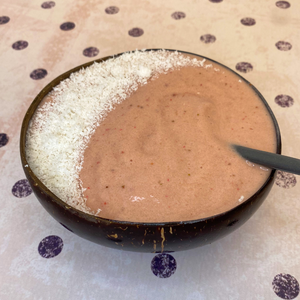 Strawberry Protein Nice Cream
Creamy, very tasty and also healthy. Try this strawberry protein nice cream! You won't regret it :) Click here to watch the TikTok instructional video .
Ingredients
3 frozen bananas
175 ml almond milk
1 tsp vanilla extract
175 grams of frozen strawberries
Coconut grater
To work
1. Put all ingredients (except the grated coconut) in a blender and mix until smooth. Not the desired texture yet? Then add some more almond milk.
2. Put the nice cream in a bowl and add the grated coconut.