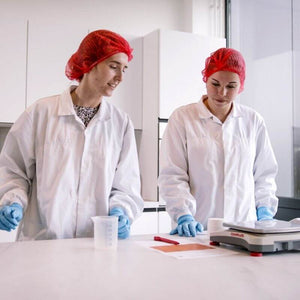 Nutrition experts at Green Harvey
Our nutrition experts Esmee & Karlijn! Read here how their working process with Green Harvey went and what was important to guarantee the best quality.
About us
We are Esmee and Karlijn, product developers graduated from Wageningen University & Research. From our passion for healthy and delicious food, we developed ourselves during this training. There we have built up a broad base of knowledge about ingredients, their functionality, effect in the body and overall health. It is therefore important to us that every product we develop meets the highest requirements. Health, functionality, solubility and stability are very important here! And not to forget: very tasty :)
Recipe development
From this basis we started developing the vegan protein powders for Green Harvey . The starting point was a product that is as natural as possible, with healthy ingredients and a delicious taste .
The combination of pea protein and brown rice protein provides a good amino acid profile and the protein powders contain all macro nutrients. Each product contains maca powder and an enzyme blend . The products are also sweetened with stevia, which is extracted from plants. All in all, we are very pleased with the end result and hope you enjoy it as much as we do!
Read our blog about Stevia here .